I love smoothies. In college I haunted Jamba Juice. Since being in college meant that I was often broke, I came up with my own version of Razzmatazz. This original version heavily featured raspberry or orange sherbet. About three years ago, I began to take steps to reduce (not eliminate) the amount of dairy and refined sugar that I eat. So I had to adjust my smoothie recipe. Here's what I came up with.
Disclaimer: I know that a certain well known blogger, who often makes me laugh so hard that I snort, illustrates her recipes with step-by-step pictures. And I am totally going to copy her. I love those step-by-step pictures.
Ok, now that we have the business out of the way, here is my recipe for a breakfast smoothie.
What we need: one banana, flax seed oil, fresh spinach, orange juice, frozen pineapple, frozen berries, vanilla
The first step is really difficult. Peel the banana, break it into pieces, drop it into the blender, decide to no longer read this blog due to excess sarcasm.
Add 2 to 4 tablespoons of cold pressed flax seed oil. Finding a tasty, cold pressed flax seed oil can be a little expensive but it's really worth it. It's so healthy and the fat adds this smooth warmth that helps me get over not adding sherbet.
This is the secret ingredient. My sweet friend, Karo, who is a registered dietician, let me in on this trick. Add 2 handfuls of baby spinach. It adds a fresh cool taste, and we're sneaking dark, leafy greens into breakfast.
Next add 8 oz of frozen pineapple. I always add pineapple because it seems to have the right level of sweetness to balance a smoothie. Then add 16oz of mixed frozen berries. Today I am using 8oz of frozen raspberries and 8 oz of a cherry, raspberry, blackberry and blueberry medley.
WARNING: Can we chat blenders? I have killed many blenders with my smoothies. Smoke has wafted out of their overtaxed engines. I like my smoothies icy and thick. A $30 Costco special may not be able to handle that. I am currently using a KitchenAid Pro blender. Please be aware of how strong your blender is as I already have enough dead blenders on my conscious. If you don't think your blender is super strong, defrost your fruit until it's icy but not rock hard.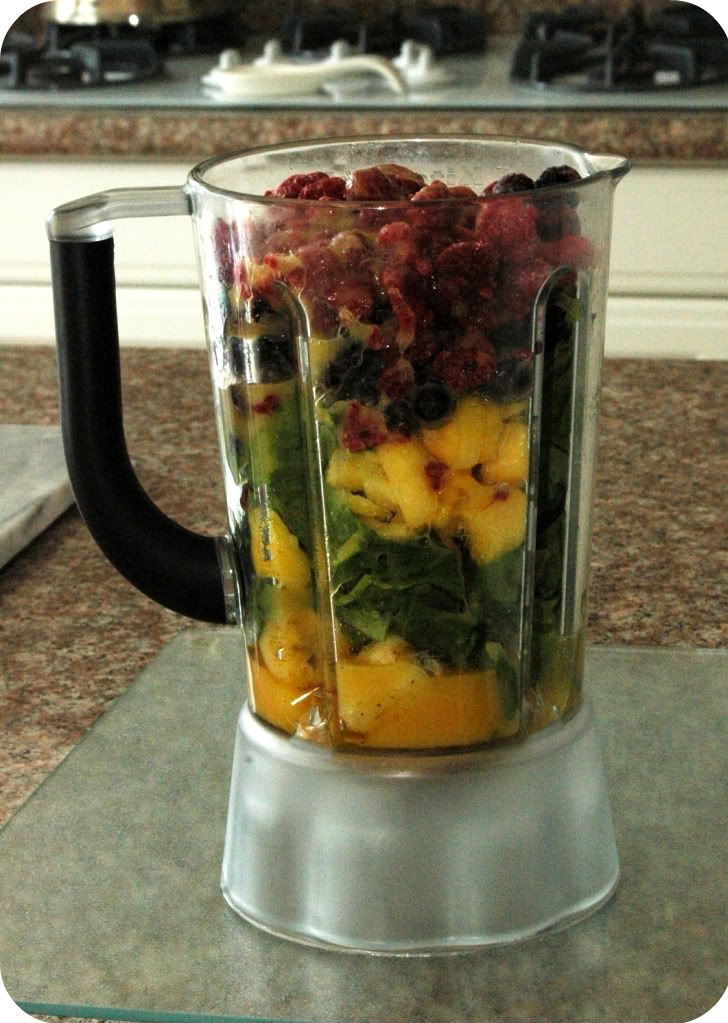 Add 1 - 2 cups of orange juice (depending on how thick you want your smoothie).
The last ingredient is a splash of vanilla, because it's yummy. Enough said.
Squish it all down so the lid attaches securely and begin to blend on low.
Let the blender puree the spinach and banana and begin to munch on the frozen fruit before turning the blender onto medium. And don't worry. It won't stay bright green.

Dead blender.
Just kidding.
If you turn the blender on too high, too fast then it will develop gas. Seriously, there is an air bubble in the middle and the blades are happily whirring away, pureeing nothing. If/when this happens, turn off the blender and gently stick a spatula in until the bubble bursts. Repeat if necessary. I often find it necessary.

See, the berries are mixing in, which transforms the disturbingly bright Grinch green into a respectable pink.
When all of the fruit is pureed, let the smoothie blend on high for about a minute, until it's...well, smooth. You'll know it's ready when you can remove the little cap and see it steadily moving through the whirlpool.
Enjoy! Straws are necessary. I am using a fancy glass because I am still celebrating the little things. Notice there is a ton of smoothie left in the blender. If you don't feel like sharing, pour it into a couple of plastic cups, cover with Glad Press-N-Seal and toss into the freezer. Well, not literally toss. That would be bad. But you get the point. These freeze well and make great icy treats for hot afternoons. Also feel free to experiment with different fruit or add protein powders if you like. Like most of my dishes, this recipe is pretty flexible.
Ingredients
• 1 banana
• 2 - 4 tablespoons cold pressed flax seed oil
• 2 handfuls of fresh baby spinach
• 8 oz frozen pineapple
• 16 oz frozen berries
• 1 – 2 cups orange juice
• A splash of vanilla (to taste)

Preparation Instructions
First, break up the peeled banana and drop into the blender. Then add the flax seed oil. Follow with the handfuls of spinach. Add the frozen pineapple and frozen berries, smashing the spinach down if necessary to make room. Pour the orange juice in and finish with the splash of vanilla.

Put the blender lid on and start blending on the lowest speed and slowly move to medium as the frozen fruit is being pureed. Once all of the fruit is pulverized and the smoothie is moving through the whirlpool, blend on high for one minute.

Serve or freeze immediately and enjoy.