I
love water. Hiking, traveling, I have to stop and take pictures of water. I may have mentioned this sickness
before
. It could be called an obsession, but seriously there is no cure. So you can only imagine the photographic results of driving for hours along one of the most beautiful coastal highways in the world.
I
know it has taken
forever
three months to start posting these pictures, but count yourself very lucky that I am not
forcing
asking you to peruse the hundreds of pictures I have from the trip
, unlike my patient family
.
It was really hard to whittle them down. As it is, there will have to be more than one BFBSRT post just to accommodate my indecisiveness without completely taxing your stamina.
S
ince September in Cali is gorgeous so I asked the Bull Gator if I could borrow his pride and joy.
Isn't she cute? (Clearly any car this sassy is a she.) It was a pretty big stretch for him to let me drive his baby and I am thankful.
It was totally fun and the six disc CD player with no iPod jack necessitated all new music. (Glee, all the Twilight Saga Soundtracks and the new Lincoln Park) Nothing like rockin' out in a red convertible to fill the long drive.
I
stopped at this cute café for lunch.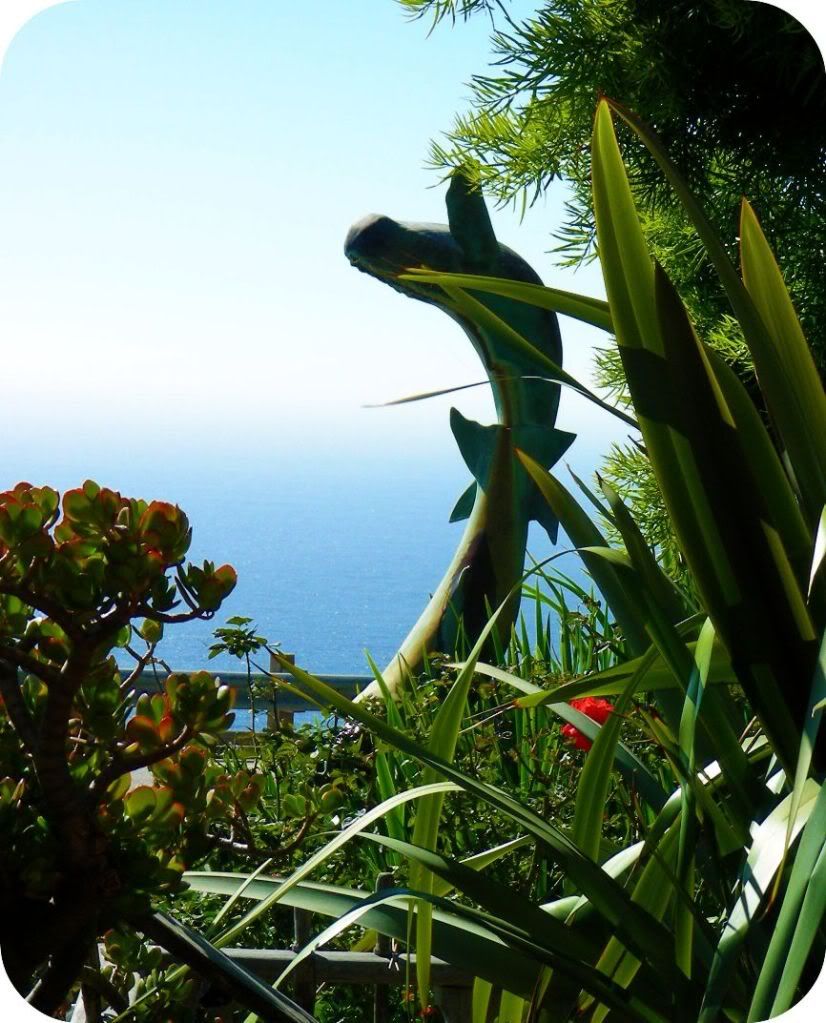 Overpriced pesto but the service was attentive and the views were to die for.
I
rolled into Carmel a little before the gloaming. As you can see the light had already begun to change revealing the deep azure of the water.
The drive didn't feel that tiring until I parked the car at the Monte Verde Inn and realized that while walking up to the front desk I'd begun to shake. So I enjoyed the spectacular sunset while eating a quiet dinner on my private porch that first night.
T
he next day I met the groomsmen and their wives. The five of us joined the bride and groom for lunch and check out this view. Almost worth a $15 dollar enchilada that tasted like nothing more than jack cheese that had been set under a broiler.
T
his summer was really cool and Carmel was socked in with fog for most of it. The weekend of the wedding was the first summerlike weekend they'd had and it was glorious. As if summer had decided to invite himself to the wedding and crammed an entire season's worth of sunshine and beauty into one weekend. So I decided that summer could be my date and I'd stay an extra day to spend more time with him.
I visited the Monterey Aquarium which overlooks Monterey Bay. Stunning. But I was too tired to properly enjoy the aquarium. The waving of the plants in the currents kept lulling me to sleep and the new age-y music didn't help invigorate me either.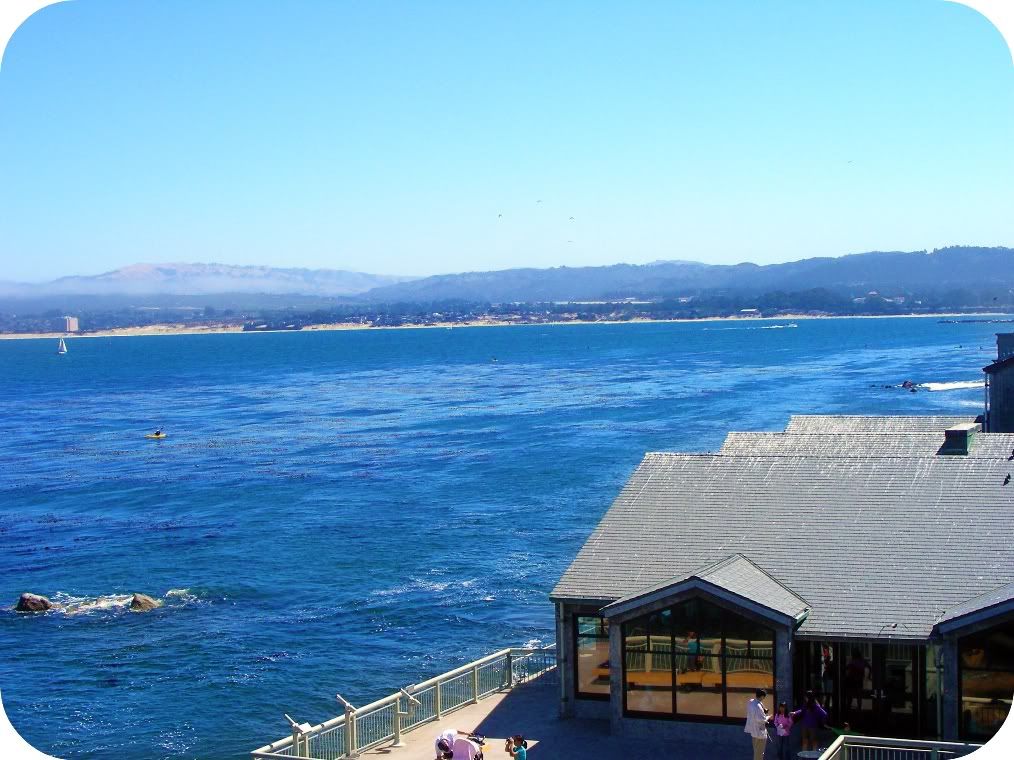 So I went back to the village and bought a cute Coach clutch at a consignment store for a huge discount. Where education failed shopping succeeded.
The end.
Except, I then spent a great evening with the newlyweds and immediate family eating leftovers and watching a blazing sunset. But I had no camera so you are spared.
Ah well, there is always the drive home.
T
o Be Continued…