You might have gathered from
this project
that I have decoupaged an item or two. While I wouldn't say my portfolio is huge it is lovingly done. And I have settled into a groove as to how I like to work, what style I like (
crackle vs rubbed distressed finish, etc.)
My very first decoupage project-a Maxfield Parrish inspired dresser with a different hand painted and decoupaged scene on each drawer-was my most ambitious. I'd love to do more pieces like that. But time, lack of a place to work, and frankly the lack of my own home have left me doing special pieces for friends, like
the wedding gift
.
In the last month or so, three sweet toddlers who call me Auntie (
or Täti depending on the language
) turned 2. Since I didn't have a blog when they were born I thought I'd take this opportunity to show off their baby gifts. I'm not always able to give such extravagant gifts but circumstances and finances provided both the need and means to do something very special for these kids.
Today's gift was made for my sweet Tea
(pronounced TAY-uh),
who calls me Joy Täti.
Love that!!!

Tea and Miro
I wanted to decoupage some sort of furniture and I didn't want to spend a mint on the actual piece. I went to Michael's and found an unfinished pine chest for about $50. I have to say it was not a paragon of fine craftsmanship. But it was reasonable as wooden toy boxes go. Knowing I would be putting a lot of time and effort into this project I wanted a solid foundation. So I spent a few days sanding, filling with wood putty and sanding again until the edges lined up seamlessly. I also removed the hinges and glued some wood trim to the edges of the lid to secure the top. The hinges are a choke hazard. I mean it's kind of a long shot that it would actually hurt them, but I wasn't willing to take any chances. The big scary sticker on the box saying "Not for use with children. Choking Hazard." helped to convince me.


Then I painted the chest with two coats of a grayish-beige latex paint.


After waxing the edges that would normally experiencing wear and tear with an undyed wax candle, I followed the brown up with two coats of my favorite shade of white.
Gently sanding the edges where I rubbed the wax leads to a gently distressed effect that I simply adore. Seriously when I have my own nest almost all of my furniture will look like this. It's such a homey, but subtle effect.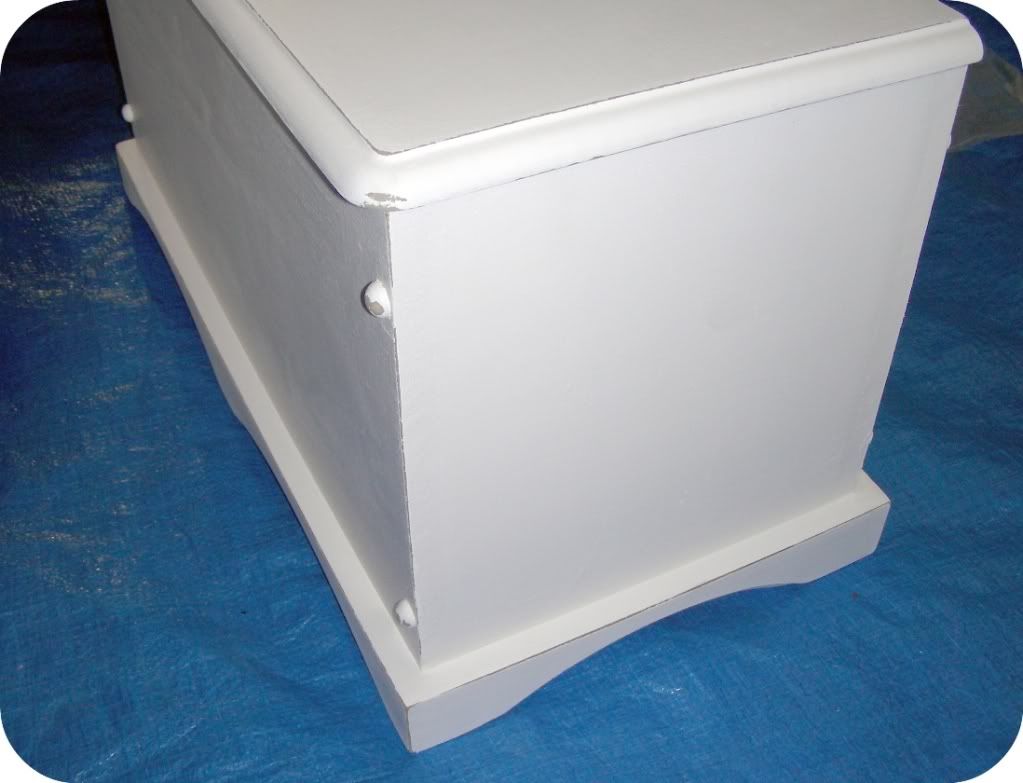 I'd already cut out the pictures I wanted to decoupage. In this case I used a small Becky Kelly desk calendar. With clear forethought and careful planning, I laid out the pictures in a grid and took pictures of each side so I would see how I wanted it to look before gluing.
Really?
That doesn't sound quite like me?
Way too patient, you say.


Yeah, well, it's partially true. I did lay out grids and take pictures of them, but only after I had glued all of the pictures carefully to the lid, backwards! And I couldn't just flip the lid around because the front had a round lip and the back was flat. Yeah, that was a crappy happy moment. I pried them up, cut new pics out of an extra calendar and instituted my intelligent grid/picture plan.
After I had the sides just so, I glued each picture down with decoupage medium from Michael's. Frankly, I was kind of unimpressed with this product. I've found a mix of 1 part White Elmer's glue to 3 parts water works better.
Then I clear coated the entire chest with Varathane. To give a silky finish I lightly sanded with very fine sandpaper.
Then I clear coated the entire chest with Varathane and lightly sanded with very fine sandpaper.
Then I clear coated …ah, well, you get the idea. I clear coated and sanded the decoupaged surfaces 20 times to ensure a smooth finish that could stand up to the wear and tear of little hands.


In fact this box is currently sporting Toy Story stickers courtesy of Tea's big (4 yr old) brother, Miro. It's Buzz Lightyear's Space Station. And I am certain that the stickers will come off leaving her fairy toy chest as good as new.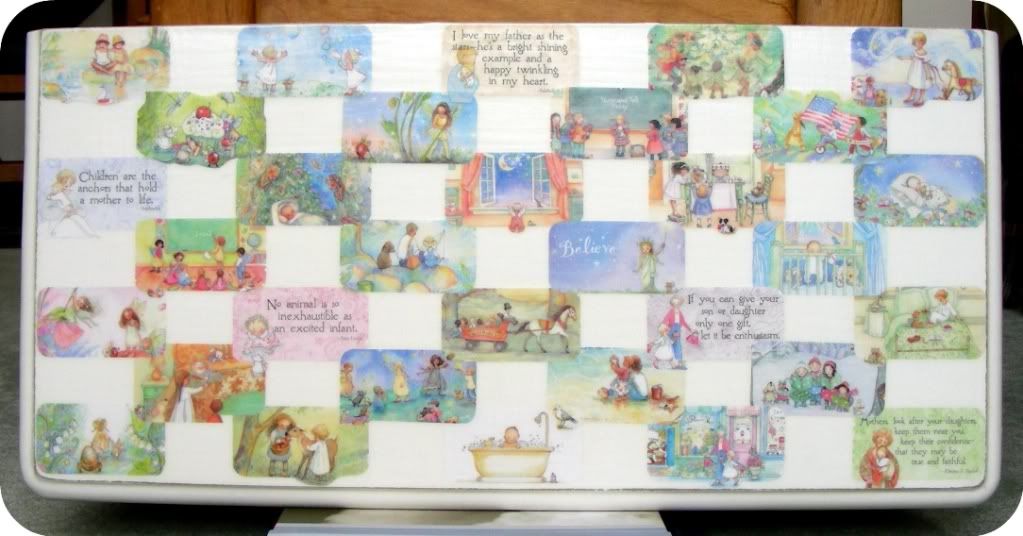 I love the final result and you know what is so funny? When I first heard that my friend was expecting a daughter I thought about making her a quilt. Then I remembered that I don't sew and I do tend to bite off way more than I can chew the first time around. So no quilt. But in the end this toy box has a quilted quality to it. All that was left was to fill it with goodies, tie the ribbon and give it away.