Don't ya love getting packages? I do. I used to love getting mail but now that it's primarily junk mail and bills, well the thrill is not exactly gone but it is highly diminished. Boxes, however, are still exciting. And I got a doozy last week. (Does anyone still say doozy besides me? I wanna know.)
Isn't it pretty? It came from Etsy. I love boxes from Etsy (and Amazon, but that's a different post) because the contents are packaged with such care and flair. Check out those ribbons. And instead of invoices you get thank you notes. I love shopping someplace where it is so clear that you are buying someones hard work and creativity and they are proud to sell it to you. I think it hearkens back to an earlier time, when craftsmanship was valued and the road between the creator and the buyer was so much shorter.
Curious yet?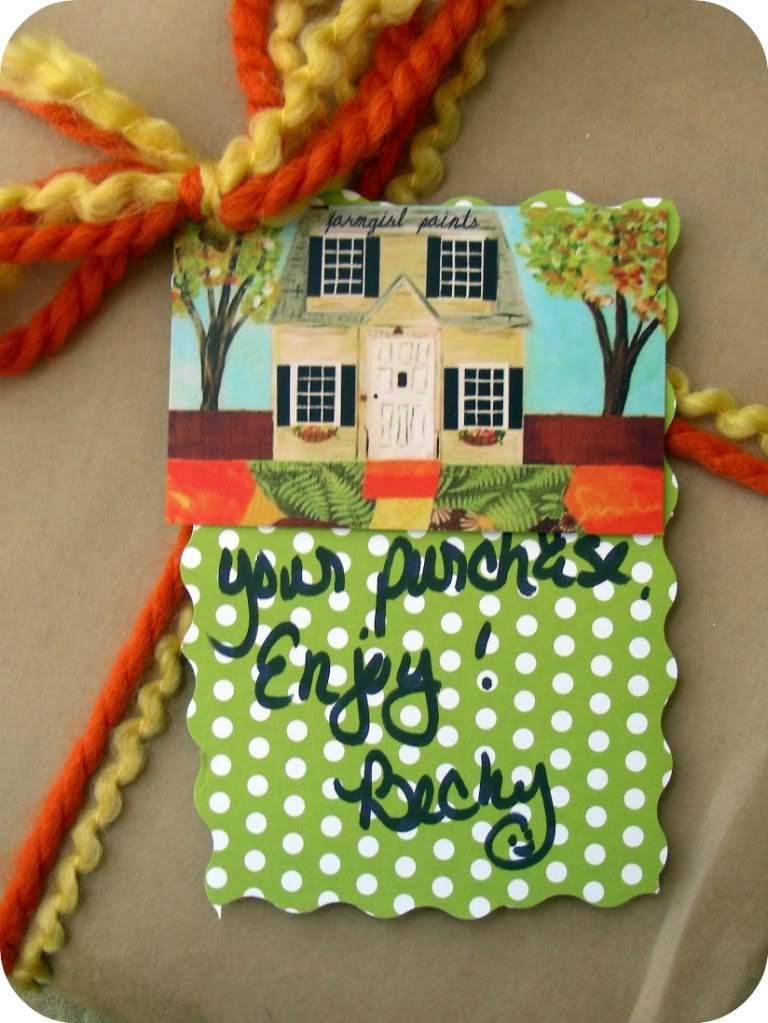 This box is from one of my favorite bloggers, Becky at
Farmgirl Paints
. Isn't her label cute? Becky is an artist with her own very unique style. Ever since she attended
Brave Girl Camp
(
I wanna go
) she's been experimenting with mixed media and I love it. So without further ado...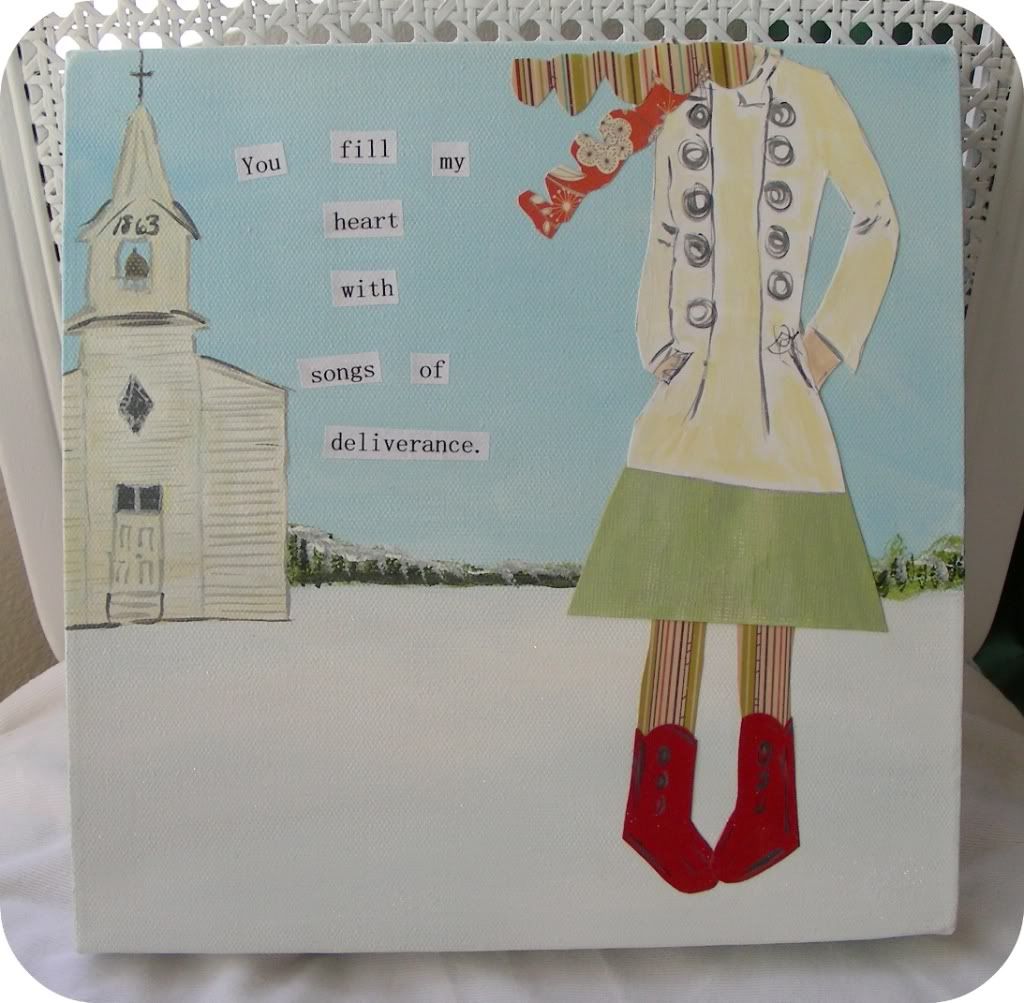 Songs of Deliverance. Isn't it beautiful? I first saw it on
Farmgirl Paints' store
a few months ago and instantly wanted it. Just look are those details; the snow even sparkles. But money is very tight and though I thought it was touching and the colors make my heart sing I just couldn't justify the purchase.
Then a few weeks ago I popped over to
Becky's store
to check out her new cuffs and this painting caught my eye again. This time I was completely taken with the words and I felt this nudge to buy it. It felt like the Holy Spirit to me but my mortal enemies FearDoubtGuilt spoke up and reminded me of my bills other such urgent concerns and told me that I had no business being so foolish and irresponsible.
Then I noticed the song playing in the background. I had left Farmgirl Paints open in another tab and what came wafting out was You Are My Hiding Place by Selah. Simple lyrics which gently repeat.
You are my hiding place

You always fill my heart

With songs of deliverance

Whenever I am afraid

I will trust in You

I will trust in You

Let the weak say I am strong

In the strength of the Lord

I will trust in You
And my eyes began to mist over at His quiet challenge. Will I trust Him? Truthfully, I agree that irresponsible spending is not Godly nor wise and I'm not going to argue that it is. But in this time of my life my trust in God , not financial responsiblity, is far more often the topic of quiet time conversations.
So it took me a few hours to fight this little battle. I'd like to say God spoke and I cooperated and that was that. But it was a bit more of a struggle. My final decision was this, the bills for January 2011 will get paid one way or another and will very quickly fade from my memory. But if I ignore this quiet dare to trust Him and this painting is sold to someone else I will remember that disappointment the rest of my life. Not as a momentous life decision that haunts me, but as missing small opportunity to trust the One who loves me most, to allow Him to give me to this thing of beauty to sing to me on my very own wall.
So the package arrived and I'm glad.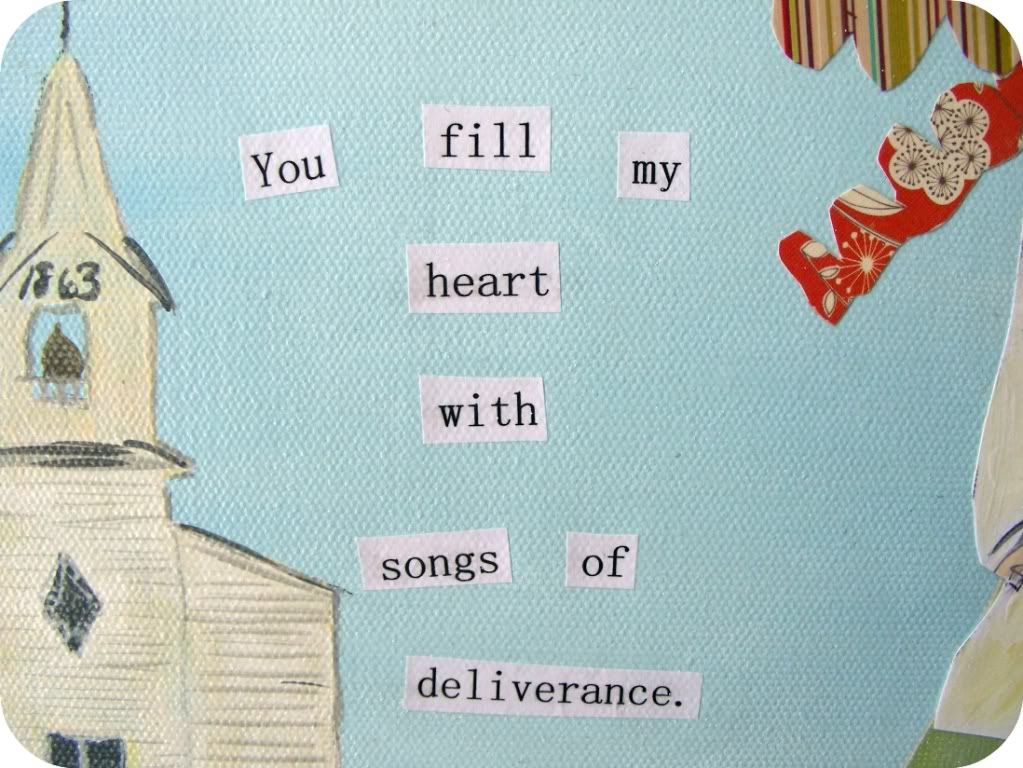 Still singing,

P.S. I've put a button linking to updates about Joanne (The Simple Wife) on my side bar. And my cousin's son is out of the hospital but he and the whole family are battling the flu which is a tough when they are trying to stabilize his blood sugar. Thanks for praying with me.
The pictures are mine and the art is copyrighted by © Farmgirl Paints. Please do not reproduce without emailing me first.