A few days ago I shared
this sweet, feminine toy box
with you. I told you I was celebrating three lil' ones' 2nd birthday. At the same time that I crafted the
Fairy Toy Box
I painted one for these two rambunctious wonders.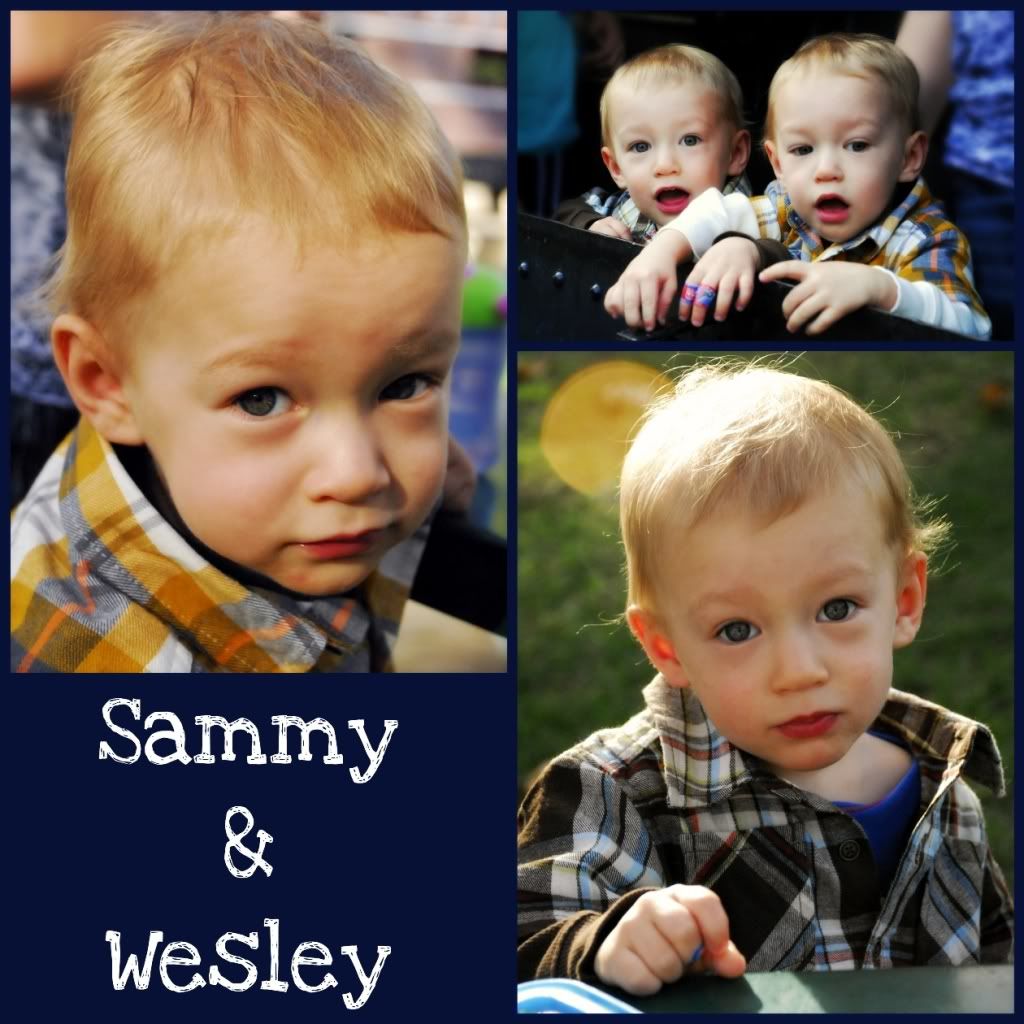 Only they were much smaller then, actually in utero, but that's probably TMI. You can read their story at my dear friend
Mindy's blog
. Mindy and I go way back so when she told me that she was expecting twin boys I knew that I wanted to make something special. But how do you know what they will like? I'll tell you how, you make something to please the Mama and she'll see that they like it. That's my theory anyway.
Years ago, Mindy and I bonded over a mutual
love of children's books
. Sooooo, inspired by the cutest twin onesies I had ever seen, I designed a toy box based on books. Since I made two toy boxes at one time (
a huge time saver
) you can read
this post
to see all of my how-to steps. I'll just show you the sweet results.
The books turned out beautifully. I went to Amazon.com (ahhh, how I love Amazon), enlarged the front covers of some fabulous books and printed them out. My marvelous printer, purchased from the Christmas when in order to save money on a gift for my brother I ended up buying a computer, backwards-a story for another post-was a superstar. The pictures were mouthwateringly vibrant.
Then I cut them out,

Glued them in place using decoupage medium,
and Varathaned for the rest of my life.
Well not quite but that's how it felt.
There are 20 coats of Varathane on each decoupaged surface.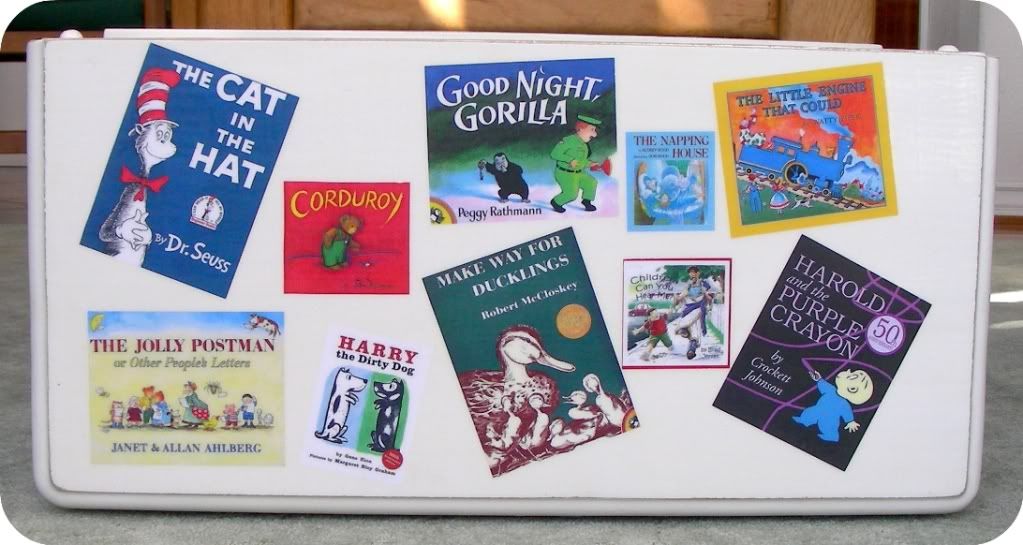 And as you can see, there are a lot of decoupaged surfaces on this piece.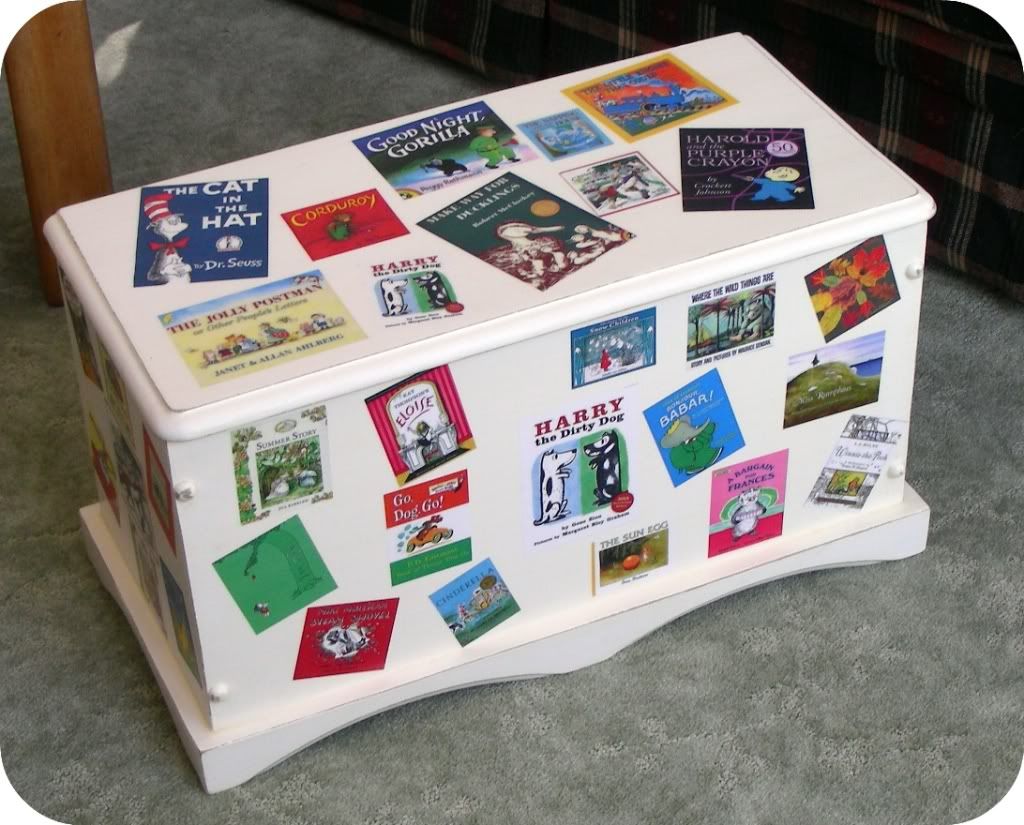 But it was worth it. I am sure that this toy box will stand up to whatever these little boys will dish out. At least until they are teenagers. I make no guarantees for their teen years. But I'm sure that by then mom will have confiscated this toy box to save for future generations (or for her own large children's book collection).
Again I just had to fill it with goodies (
or overfill, the Corduroy Bears refused to stay inside
) and go kiss Auntie Joy's precious boys. In fact you can see
here
how tiny they were when I gave them the box and how cute they were in the
world's cutest twin onesies
.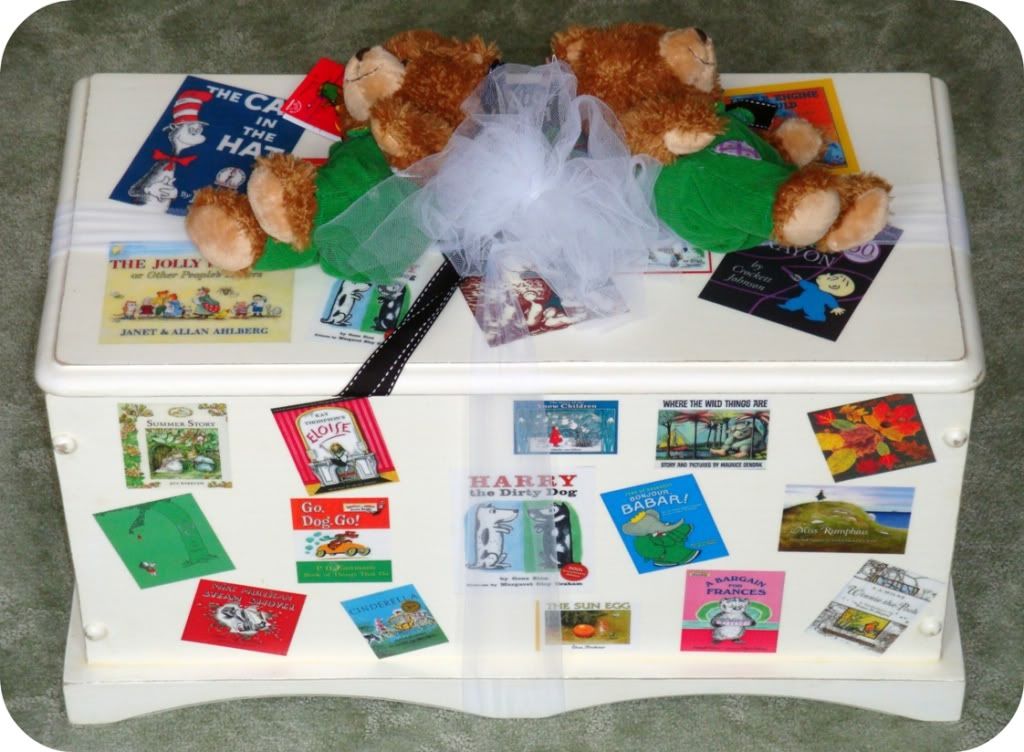 enjoy and pop over and say "Hi" to
Mindy
to see more tales of Auntie Joy's boys,