Remember
this
from a lo-o-o-o-o-o-o-ong time ago? Well it's ba-a-ack. (
On an unrelated note are you ready for me to stop elongating my words to approximate a sing-song voice? I wanna know. Actually, maybe it's better if I don't know.)
This regularly scheduled feature (
annual counts as regular
) is where I review a children's book. Since I am so behind I thought I'd give you two, two, two reviews in one.
Mo Willems
has written tons of best selling and award winning picture books which I have not read. But I do own two of the
Elephant & Piggie
books and the rest are conveniently located on my Amazon Wish list for all of my 3d friends' gift buying needs. Without further
snarkiness
ado:
Elephant, whose first name is Gerald, and Piggie, whose first name is Piggie, are charming and funny but they are also quite human (for an elephant and a pig). At this point in the story Gerald loses his temper while venting to Piggie about a situation that's bothering him.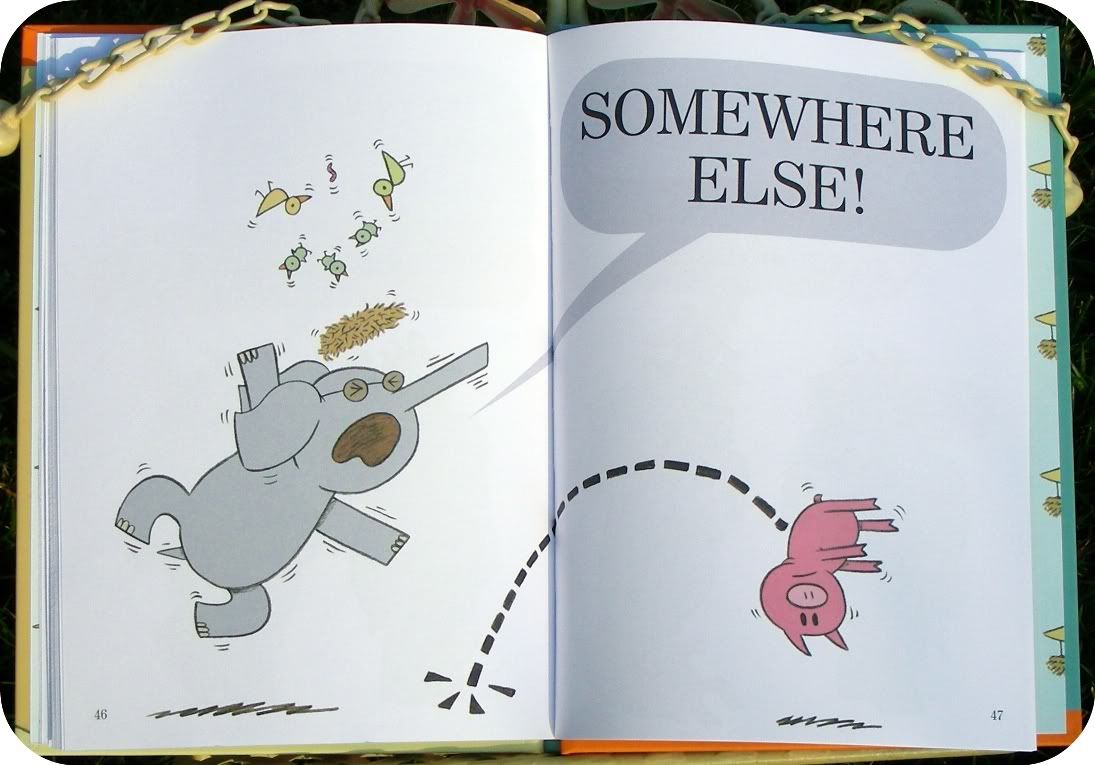 See, Gerald got so mad he literally bowls Piggie, over. Piggie is the objective friend and accountability partner who can see the obvious and healthy approach that never even crossed his mind.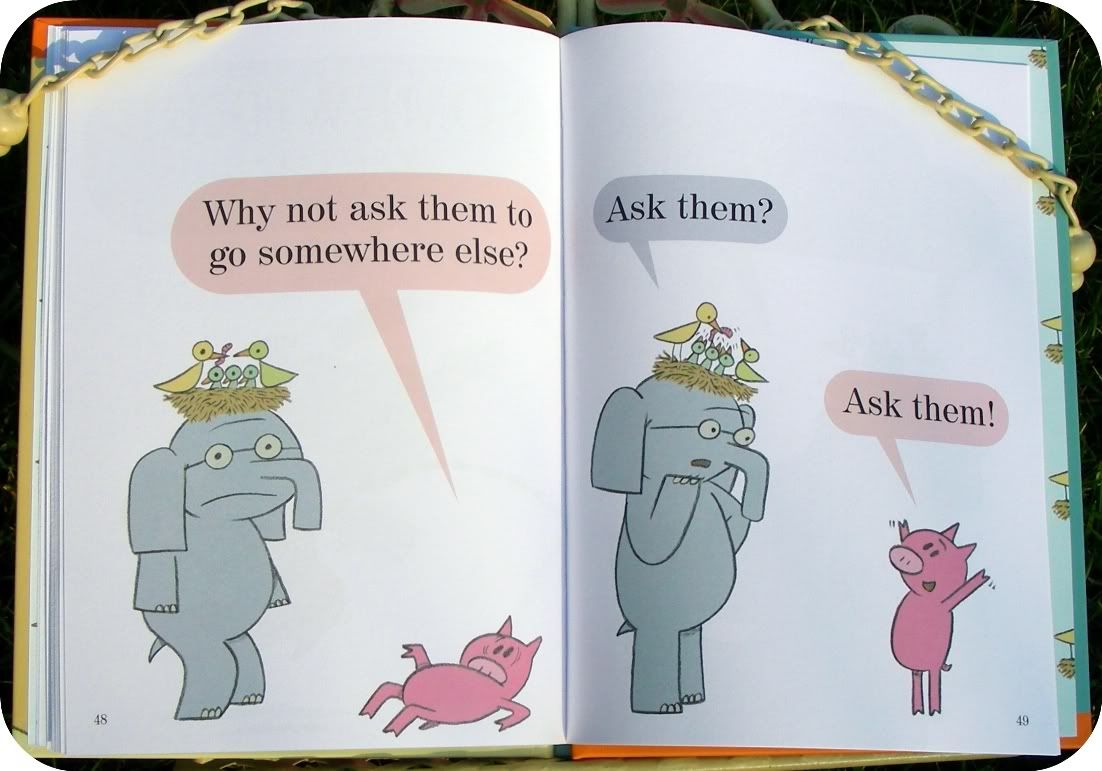 I love it! What a vital lesson. I have had so many of these moments when I am wrapped up in my point of view and emotions and need someone outside of the situation to point out that I have not actually set a boundary or stated my needs respectfully. I am angry because I expected someone to read my mind and just fall into line. Deep for a picture book, huh? I'm telling you check out the children's section of the library, you might be surprised.
But what will kids think? Gerald and Piggie are so funny, I'm sure they'll love them. Gerald is over the top, the world is either ending or the funniest thing he has ever seen. But he does tend towards the glass half empty. Piggie is clever and almost always the rose-glasses wearing optimist. Check out Piggie's facial expressions. They are priceless. There Is A Bird On Your Head's ending made me laugh out loud. The illustrations are very simple and clearly tell the story. The words are large enough for early readers to easily decipher. Here, let me show you another one.
This is my brother's favorite
Elephant & Piggie
book. (
Hi DBB
. Oh who am I kidding, he doesn't read my blog
.) Elephant & Piggie discover they are in a book when they spot a reader. Check out Piggie's face.
This is what I look like when I get a comment, right down to the clasped hands. And I believe every blogger has had this moment.
Well, maybe not all bloggers. I will stick to my "I" statements. I have felt like this a time or two.
We Are In a Book
is again very clever without losing the silliness kids adore; especially if you read it with them and make funny voices. If your kids loved Sandra Boynton's books as toddlers or preschoolers, this is the next step. Mo Willems has the same sense of humor as say,
But Not Hippopotamus
. And if they are learning to read, these books are simple enough for them to quickly master.
There Is A Bird On Your Head
and
We Are In A Book
have both won Theodore Seuss Geisel Awards. I am sticking these two books into Auntie Joy's / Joy Täti's babysitting bag. Definitely bagworthy.